Zihao stars for Team II
Monday evening saw an entertaining and enjoyable postponed ELTTL match between team II and Penicuik I. Zihao came in to join Keith and Charlie for team II. Penicuik I were represented by David Melrose, Colin Green & Iain Johnson. Iain sporting a very impressive lockdown beard!
The match took place at the Gyle, which allowed the match to be played on two tables. This resulted in-at least by team II standards- an early finish. On the downside, the courts were slightly on the small side and the floor was a bit slippery (well, that was Charlie's excuse for not moving!). It was nice to see the Gyle being well used with a kids' session (led by Emma) taking place prior to the match.
In the opening set of matches, Charlie and Colin looked set for a 5-setter, before, at 9-9 in the 4th, Charlie managed to smack back one of Colin's loops and then profited from a particularly nasty net dribbler on match point. Meanwhile Zihao began his evening well, beating Iain 3-1 and Keith beat David by the same score. In the 4th match Iain overpowered Charlie and took a deserved 2-1 lead with some superb rocket forehands. Some astute tactical advice and calming words from Zihao help Charlie turn the tide in the 4th and 5th sets.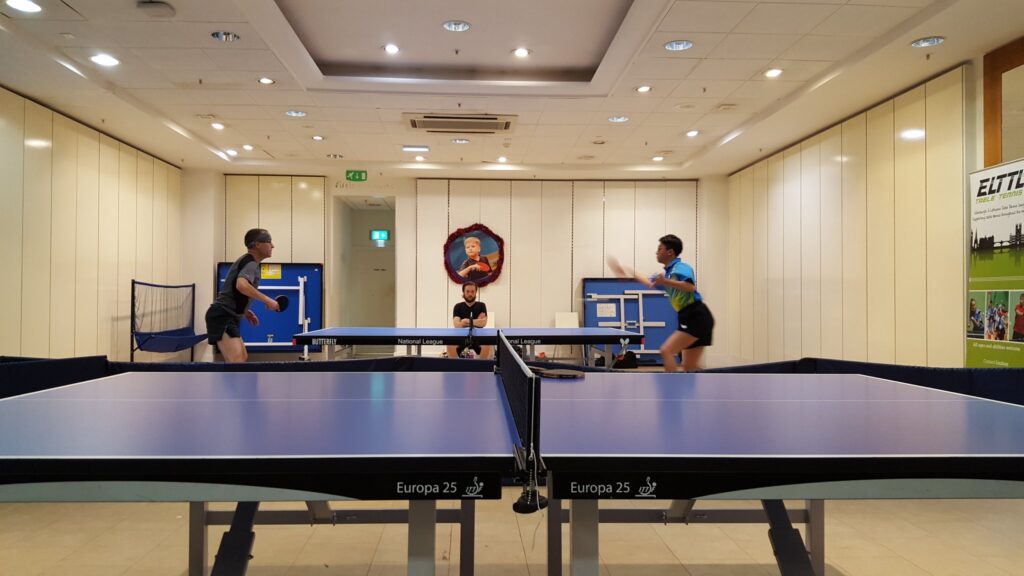 The highlight of the night was a tight and sweaty 5-setter between Colin and Keith. After Colin started very strongly, Keith wrestled back the lead with some good tactical play and the odd moment of fortune ("I've never met a luckier player") helped him establish a 2-1 lead. At 7-4 up in the fourth set, Keith seem to be on the course before an unwise smash ("I'll have nightmares about that one") slightly derailed him. Colin took advantage as he determinedly battled back, eventually edging the 5th set 11-9. Some good service variation helping Colin at key moments.
Colin missed out in the final match of the night to a patient and consistent Zihao, who kept his nerve in a long and close fourth set, which he eventually won 13-11 and with it the match 3-1.
The usual ELTTL cliché applies to this match, with the match tighter than the final score line. Team II's next match (also a postponed fixture) takes place this Wednesday-a trip away to play a strong Fife I side.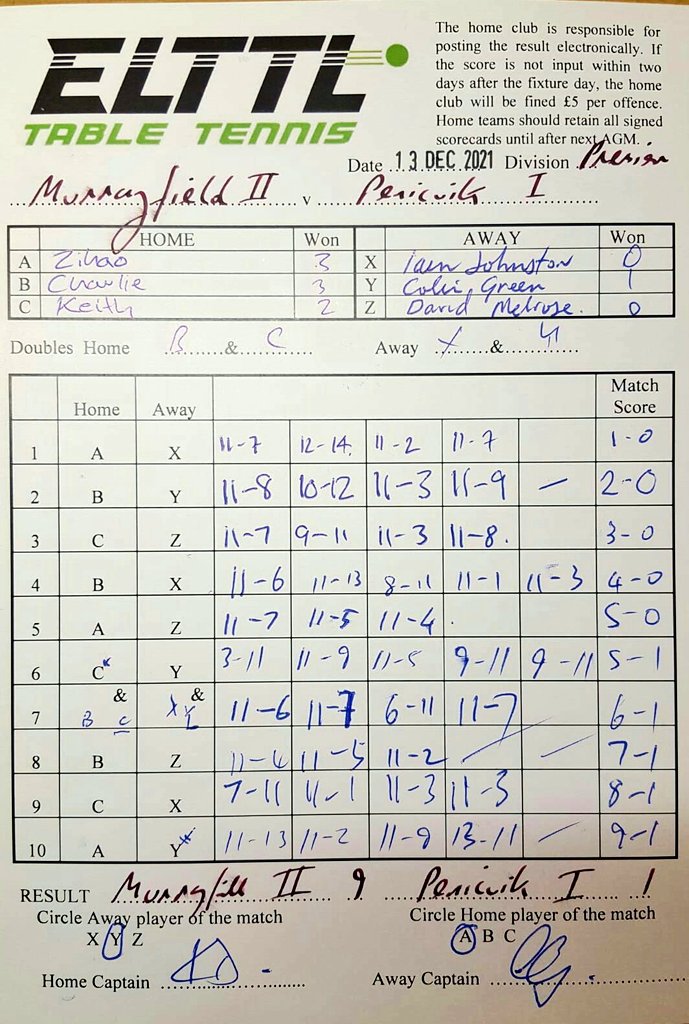 by Charlie Ellis
---