MTTC Season Summary 19/20
Before it was prematurely curtailed by the Covid-19 pandemic, the 2019 2020 season was a highly successful one for the club. The season demonstrated great strength in depth within the club and the continuing progress of the club's squad of young players – a tribute to the coaching programme led by Gordon & Lindsay Muir. We hope this article will also help you choose the MTTC Player of the Year.
Below text you can find statistics for individual MTTC teams. The post will be updated twice a week.
The club retained the ELTTL Premier League trophy and finished as runners-up (just behind North Ayrshire A) in Division 1 of the Scottish National League. John Hannah had a fine season in the SNL, while Calum Morrison reached the semi-finals of the Scottish Nationals, where Colin Dalgleish picked up his 1st national title. Borui Chen also had a successful nationals, picking up the under-15 crown.

Gordon Muir led the way for Team I as they secured the ELTTL Premier League title shortly before the nationwide cessation of table tennis activities, finishing ahead of a strong West Lothian I side. Gordon was supported by Zeesth Naseem, Yuhuan Wang, Alicja Czarnomska and Krzysztof Borkowicz. Led by captain Keith Dingwall, Murrayfield II had a good season, eventually finishing 3rd, and pushed team I close when they met in February (leading 4-1 before team I came back strongly to take a fine contest 6-4).

In Division 1, team III were dominant with George Zhi losing just one match as he topped the averages. Murrayfield IV were runners-up while Charlie McGowan had an excellent season with an average of 77.2% and was the most improved youngster in the league. The club really dominated Division 1 with MTTC players taking up 9 of the top 11 in the league ending averages. Murrayfield VII finished a creditable 3rd in Division 2 where Ben Jamieson finished 5th in the averages.

It was encouraging to see a number of new players in league action with the club fielding 11 ELTTL teams and playing home matches at three different venues. Chad Tung of team XI was the most improved senior in the ELTTL.
The continued success of the Pop in & Play venue at South Gyle Shopping Centre as a match and training venue was another high point. With Gordon Muir soon to leave for China, Krzysztof Borkowicz has now taken over as head coach and is also the new website administrator. The club will hopefully continue their momentum when table tennis re-emerges after the lockdown.
Charlie Ellis
Click here to vote for the MTTC Player of the Year ?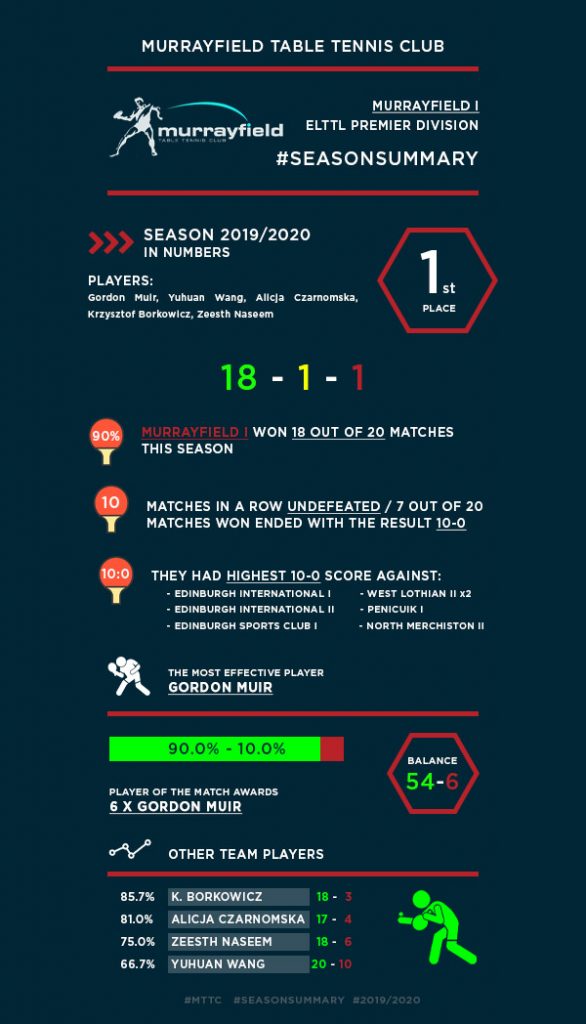 ---