Murrayfield IV secure Premier promotion
Team IV had a very successful season, finishing as runners-up in ELTTL Division 1, behind a strong Haddington I side. Haddington, led by Pete Lugton, were worthy champions. Team IV finished one point ahead of Edinburgh University II, securing a place in the Premier Division for season 2022-23. Here, team captain Colin Clark reflects on the season. 
Division 1 of the 2021-2022 ELTTL has been one of the strongest, competitive and most enjoyable seasons that I can remember. The division was full of Premier League standard players, including a few old friends and some new faces. One of those old friends, the ex-Murrayfield legend and Scottish internationalist, Pete Lugton eventually helped Haddington run away with the title. Behind them, there was a four way battle for second place between University II , ESC II, Edinburgh International II and Murrayfield IV. It was only settled in the final match of the season. More on that later.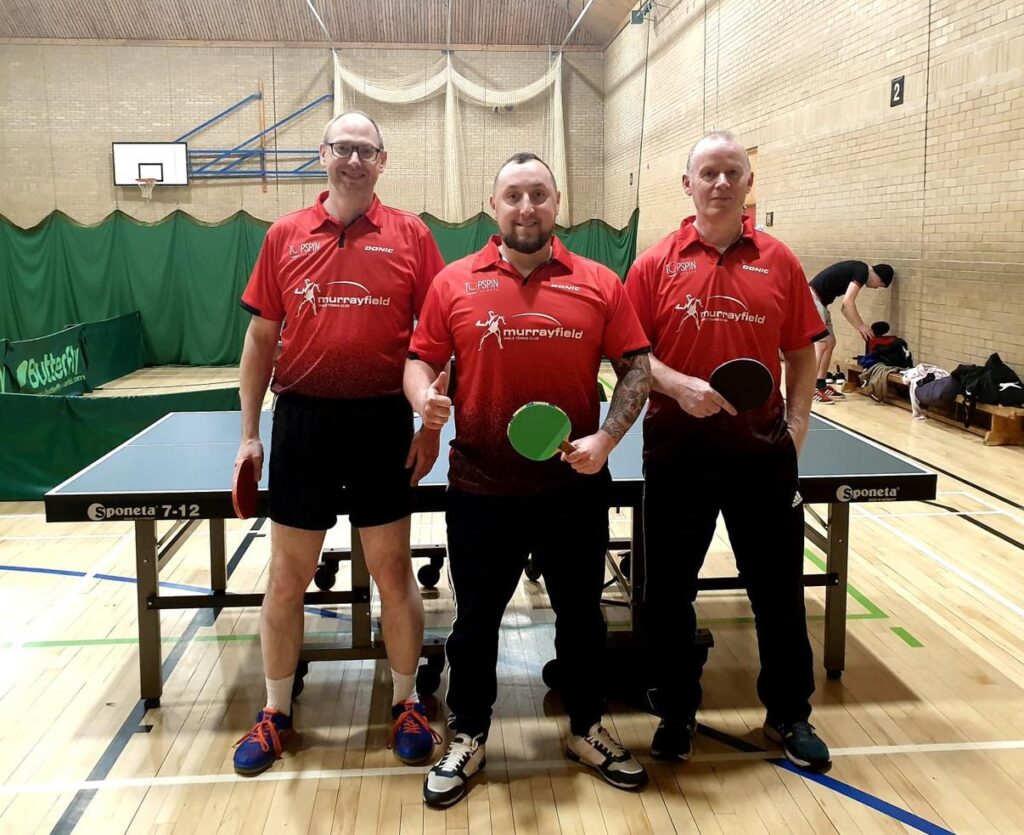 The squad
Murrayfield IV were, in order of appearance: Leandro Golinski, Stuart Wilson, Lindsay Muir, Colin Clark and Tomasz Bracha. Colin chose not to play the first match. "Do I really want to be in a school gym hall with 3 matches going on?". Covid 19 lockdown wasn't that far away and going back out into the big bad world was still a bit scary.
It was a good decision for the team as MIV won 6-4 with Stuart and Leandro winning the crucial doubles. This set the tone for the whole season with six different combinations winning key doubles matches in our many close wins and draws. We actually won the first four matches of the season 6-4, including away to a very strong University II team. Stuart was unavailable for that match, forcing Colin to overcome his fear of busy "school" sports halls. Who knows how Lindsay, Colin and Leandro managed to win that one. Lots of five enders going our way, including Lindsay and Leandro pinching the doubles after being 2-0 down.
Highlight of the first half of the season however was the visit of Haddington in December. We had just lost to ESC, 4-6, and dropped a point at Ocean Terminal making this a must win match. Lindsay and Leandro started with good wins over Russell and Matt making it 3-2 before Colin had possibly the biggest win of his "career" over Pete. Helped by the support of Ken Ben who arrived at 2-1 down and must have distracted Pete by videoing the rest of the match. I'm still waiting for a copy of that video! We were outclassed in the doubles but did just enough for yet another 6-4 victory. That helped Murrayfield spend the Christmas break in 2nd spot; still dreaming of winning the league.
The Christmas break presented yet another dilemma. Should we practise or not? Covid-19 cases were high and the risk didn't seem worth it. And Leandro was in Brazil so, 5 weeks after their previous match Lindsay, Colin and Stuart lined up against Edinburgh International. Another good doubles win but Colin and Stuart both lost fiver setter singles matches. A 6-4 defeat showing how tight this division was.
Another point was to be dropped in February to Murrayfield VI who had a new player, Tomasz Bracha. Luckily, Leandro was on top form and is one of only 3 players to defeat Tomasz this season. Lindsay became unavailable 10 minutes before kic-koff which meant calling up Colin who was settling down to watch the golf from his sofa. Not an ideal preparation and team 6 were soon 4-1 up and promotion was looking very unlikely. Stuart pulled one back vs John and then the doubles. Leandro and Colin somehow won yet another 5 crucial doubles in 5. Warmed up, Colin then got the better of Ian, obviously in 5 ends and Leandro secured the draw. An important point.
The following week University came and hammered us 7-3. The students were now firmly in the promotion hunt and the top of the league was looking very tight. Well, second place at least. Another 6-4 win including the doubles vs Corstorphine followed to keep us in contention.
The league intervene
Then, with only 4 games to go, the league decided that Tomasz was too good for team 6 and should be in team IV, forcing our Captain Stuart to swap places. What's that all about?
Next match was against Murrayfield 5 and Haydn and John were also trying to prove that they should both be in team IV. John Yau was a bit unlucky to lose to Colin and Tomasz in 5 ends, and Haydn doing even better winning two. Haydn probably will be in team 4 or higher next season playing like that.
We were now in the last week of the season but with 3 matches to be played. University II had finished and were on 25 points and a healthy game difference. The calculators were out. We were unlikely to make up the game difference but 4 points from the last 3 matches would be enough. Unfortunately the last 3 matches were champions Haddington away, ESC II, who could also still finish second, at home and Penicuik away.
First up Haddington, and when Russell defeated Tomasz and Colin, both in 5, things were looking bleak. But we like our 5 enders and this was the turn of Lindsay, who won 3 of them! A vital draw. Haddington also took us out for a post match beer which was nice. Cheers guys!
So two matches to go, to be played on Monday and Thursday. Lindsay decided that he'd done enough and decided to go on holiday that week. Priorities?
So Colin, Tomasz and Leando would take on ESC II. We got lucky with ESC not at their best, recovering from Covid and holidays, and won 7-3. The highlight being the worst doubles performance of the season from Colin and Leandro. An edge avoiding a "granny" in one end. But another two vital points.
Ladywood finale
So one match to go, bottom of the table Penicuik with just a point required. What could go wrong? Lindsay is still on holiday, and Leandro decides he'd rather go on a business trip than go to Penicuik. Wish I'd thought of that! So we called up our captain Stuart to play up for us. Confusing.
Sonny was playing well for Penicuik but Tomasz got the first point on the board. At the same time Stuart was losing in 5 to Gary. In the next game, Colin was 2-0 down and behind in the 3rd against Julian. It was hard to see where the 5 wins required were going to come from. Digging really deep, somehow Colin won in 5. Two more wins from Tomasz and one of the better doubles performances of the season, winning in 3 rather than 5 for a change and we had the draw and secured second place in the league. 🙂
So a most enjoyable season, very lucky to finish second, but the main thing is we are back playing again after the Covid-19 enforced break. It's good to be back!
edited by Charlie Ellis
---