Murrayfield I finish on Top
Murrayfield I have won the ELTTL Premier Division Title, finishing 6 points ahead of Edinburgh University I. In doing so, Murrayfield followed up their win in the truncated 2019-20 season. The University team included two very strong players this season in Kevin Qu and Christopher Wong and were a real threat.  Murrayfield III completed an impressive season with a strong 3rd place. 
Key to Murrayfield I's success was consistently being able to put out strong sides. MTTC coaches Gordon Muir and Krzysztof Borkowicz generally played alongside youngster Charlie McGowan. Here team captain Gordon Muir reflects on a successful season.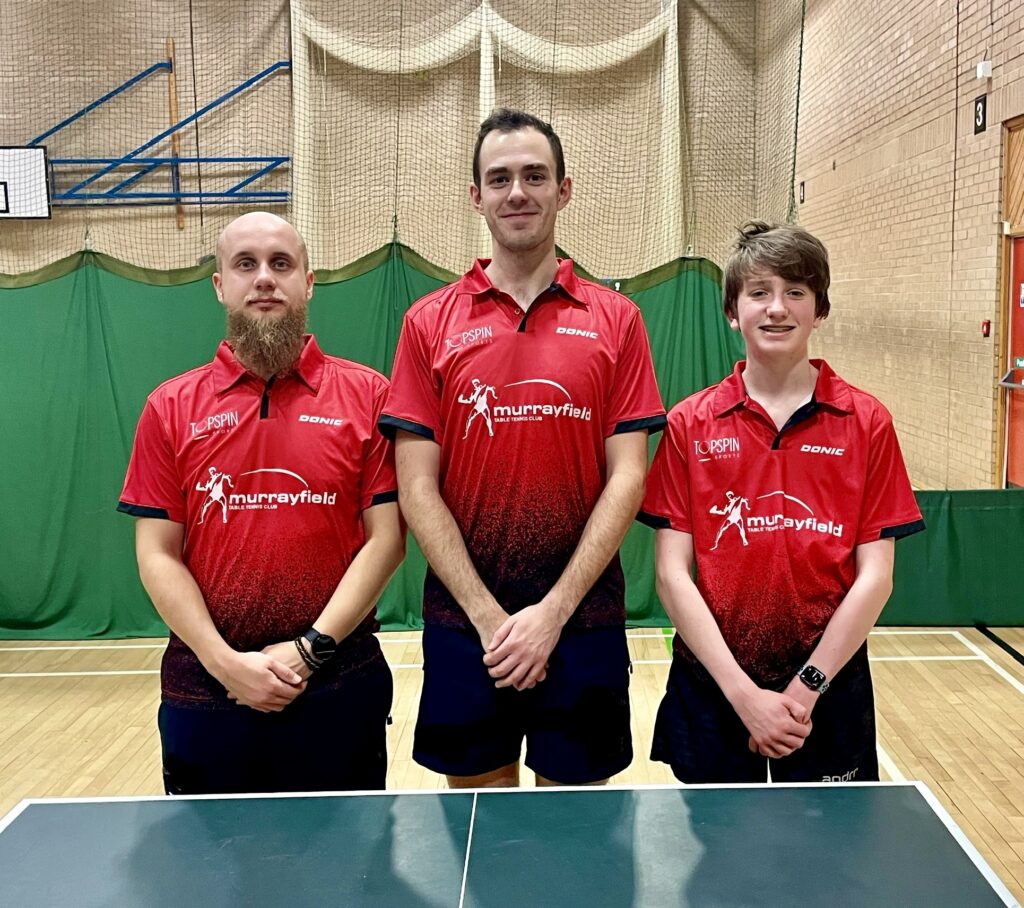 Happy with the season as a whole?
Yeah, it was great to get back to Local League TT. We weren't sure starting the season if we would get through it without disruption. We worked well as a unit, with all of us helping coaching and supporting each other. Charlie reads the game well, hopefully we can get him doing his level 1 coaching qualification soon!
Your nearest challengers were Edin Uni 1.
Yes, the first match with Kevin Qu leading their team was tight, with Charlie doing well in the doubles with Krzysztof. Charlie also beat Mae in 5, which was crucial to the 6-4 victory.
We lost out 4-6 in the return fixture which was a great match, Christopher winning his 3 and Mae playing very well.
A bit relieved that Kevin Qu and Christopher Wong didn't play a full season?
I suppose so – it would have made winning the league difficult! It felt similar to previous seasons, where Johannes would turn out against us but not make every match, which would dent their chances. Christopher's primary motivation for playing in the second half was to qualify for the Inter-League (where he helped to seal the title with a great win against West of Scotland's Malo Le Gall) but he must have enjoyed his league matches as he has also played the remaining fixtures.
What about Charlie's performance – signs of real improvement?
63% this season. Pushing 85/90% next?
Yeah I think he can do it, he had a good season and I think justified his inclusion in the first team. We try where possible to promote young, promising players (Colin Dalgleish, Calum Morrison among them) to the top team – and it's generally worked out well. We also had Haydn step up into the 1st and 3rd teams in the final few weeks, and he was looking promising too.
Thoughts on your own performance? finishing 2nd in the averages with 82.4%.
Can't really complain, a bit disappointed that I didn't play at the top of my game in some of the big matches – but in general happy to finish 2nd in a tricky division. Krzysztof deservedly took top spot.
Tricky for you and Krzysztof combining it with coaching, work, TT admin etc?
Harder for Krzystof I'm sure, I had a couple of really busy weeks during the season but on the whole I think that coaching and playing combine well together and one helps the other.
What about the general standard of the league?
Too many one-sided matches?
I think the level of the league was pretty good this year. Plenty of new players, especially Edin Uni students, added extra interest. There are a lot of wily experienced players too, so it's not as if you can let your guard down in any of the matches.
Interview by Charlie Ellis 11.4.22.
---