Hardbat night 2023
The club began the new year with its regular hardbat event. For this we use retro style sandpaper covered bats, as used in the World Championship of Ping Pong.
20 players took part. Some had played quite a bit of ping pong,  while others were trying it for the first time. Some of the standout performances came from some of the youngsters, including Max Well and Jamie Toner, who adjusted to the sandpaper bats really well. 
Play was initially in 5 groups of 4, with two players from each making it through to the knockout rounds. Third place players went into the consolation event. With John Hannah-dominant in recent Murrayfield ping pong tournaments- absent, who would come out on top?
Group stages
The group stages included some long and interesting matches. Lynn surprisingly did much of the attacking against Yubo, as he didn't feel he could trust his attacking shots (" I haven't had enough practise to attack").
The pick of the group matches saw Jerry Ji play Jamie Toner. The match featured long and intense rallies ("every point is 25 shots long!"). Jerry defended very consistently, while Jamie blocked and drove well with his unorthodox backhand. Jerry eventually took it in 3 very tight sets. Their group was a really tough one which had to be decided by count back. Graham Muir was unluckily pushed into third place.
In Group 1 Colin Clark got off to a good start v Gordon in the first match on, winning his double point ball at 9-10 and went on to win the first set with some good tomahawk serving and strong forehands from the backhand corner. However, Gordon found his rhythm and won the next two ends to win the match. Mike Letchford also played some good stuff in this tough group.
Other good group matches included a good contest between Keith Dingwall and Lindsay Muir with the latter landing some trademark backhands – but not enough.
Knockout
In the knockout rounds, Keith and Yubo produced a good match. Yubo started to go for his shots. Some of his rockets hit the table and flew past Keith, others threatened life and limb of his opponent and spectators! Charlie McGowan's run was ended by Gordon Muir in a game with several fluent rallies.
Surprise packet Jamie Toner made it through to the semis, where he faced Gordon Muir, who recently got to the quarter finals of the Scottish ping pong event in Dundee. Gordon got off to a really strong start, leading the first game 10 -2 and, although Jamie made a strong comeback in the first set, eventually proved just too consistent. Gordon finished off the match with some nice flat forehands.
On the other side of the draw, Charlie was really tested by Jerry's obdurate defence; made to work for every point. A few unwise flat smacks from Charlie only threatened the windows. Charlie was possibly helped by the lack of space in the court which made deep defence difficult. In the semis, Murrayfield II teammates Keith and Charlie faced off. Charlie managed to deal with Keith's tricky serves and found some consistency with his backhand; taking the game 2-0.
Finals
For the finals, the hall was rearranged for single table play. Before the final, Keith's tricky long serves helped him win the one point tournament, beating Rory in the final. Then , in the consolation final. Graham Muir beat Max Well in their 1 set contest.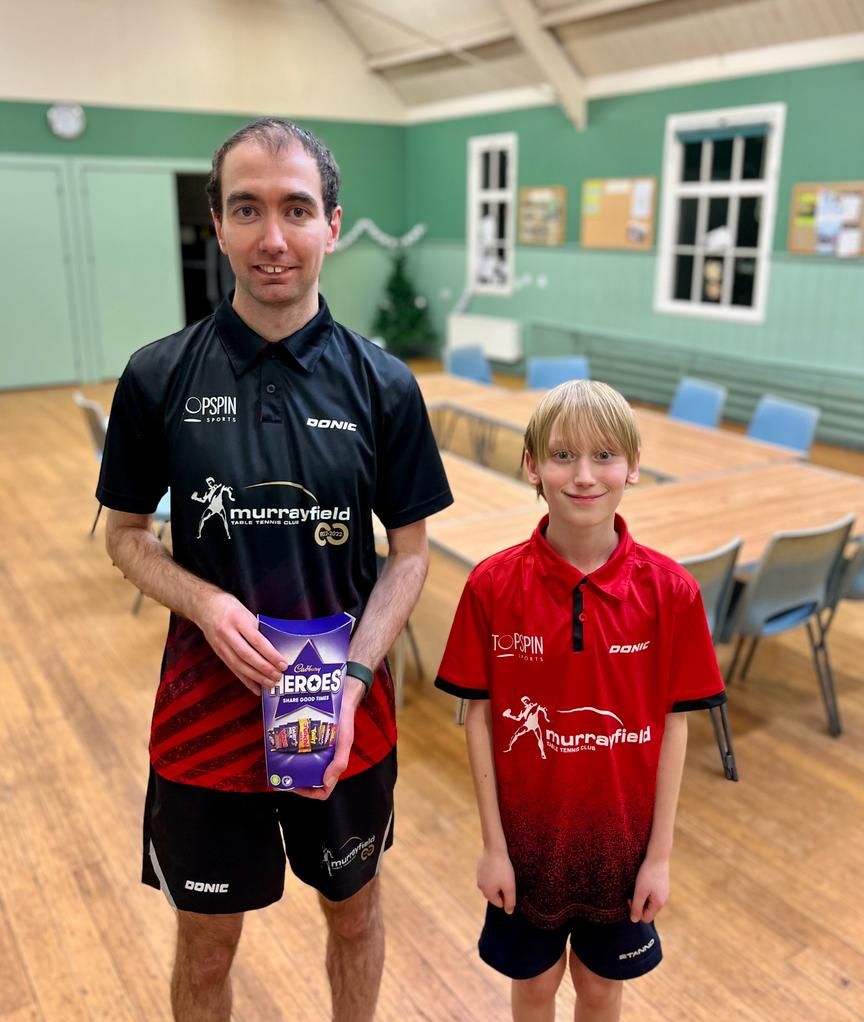 Then for the main final, between former champions Gordon and Charlie. A quick straw poll suggested that Charlie was marginal favourite. The larger court allowed Gordon to defend in some points, which he did well (gathering praise from Jerry, who was umpiring the final).
Charlie turned back the clock and found some of his old form as he began strongly, taking the first game with some ease and surprised himself with a couple of his own backhands. As usual, Gordon switched things around tactically and forced Charlie into errors before dominating the end of the set. 1-1 and all to play for. The final set didn't really catch fire with some slightly nervy play from both and a lack of big rallies. Charlie found enough consistency to close out the match 2-1.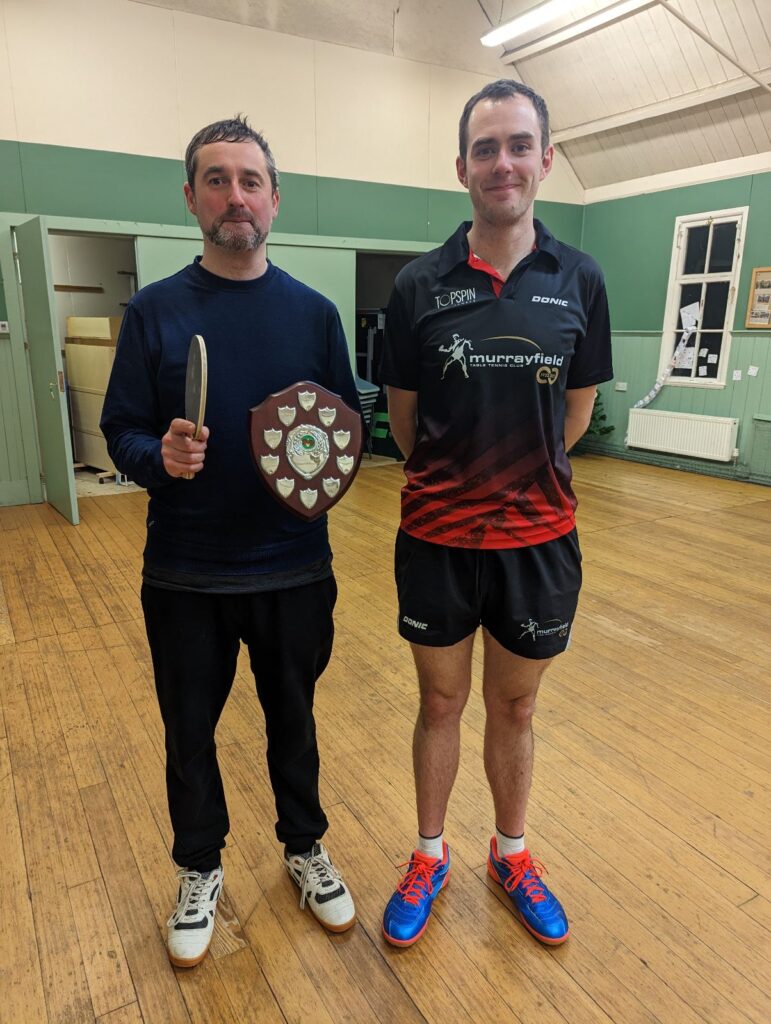 Those who could stay then tucked into Lorna Muir's tasty lasagne. It was a nice way to start the new year. Hopefully players won't find it too difficult to readjust to sponge bat play as the ELTTL restarts next week…
As usual, thanks to Team Muir for their organisational efforts. Also thanks to Mike Letchford for umpiring so many of the matches (and keeping other umpires accurate!).
Full tournament results available here.
---