Hannah claims club championship
John Hannah is the Murrayfield club champion for 2020. He defeated Krzysztof Borkowicz 4-1 in a well contested final, held at the Pop in & Play venue at the Gyle Shopping Centre. Afterwards Hannah was presented with the Roger Thomas Quaich – given to the club 4 years ago by Roger.
Key set
Key to Hannah's victory was the 3rd set which he claimed 18-16. Borkowicz led the set 10-7 but was unable to convert 5 game points as his forehand misfired. After securing that vital 2-1 lead Hannah started the next strongly, forcing Borkowicz into more passive play. Hannah won the 4th and 5th sets with some comfort (11-13, 11-6, 18-16, 11-5, 11-8). After the match John reflected on his victory:
My performance was good, dipped in set 1 at the end squandering 4/5 set points. Krys was clinical in the first set. That's been an annoying pattern in all my games. Versus Keith and Charlie I was down initially so will need to look at that mentally side of the game before returning to full on competition. Whenever that is..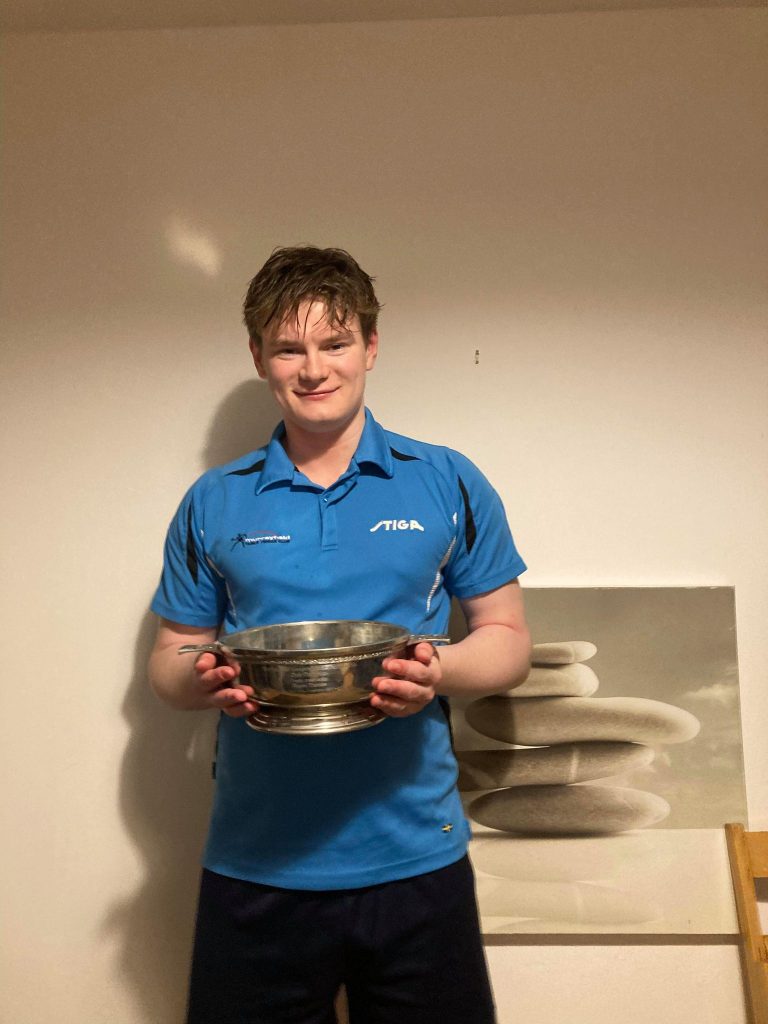 When asked how it was to play the tournament in such strange circumstances Hannah said:
It's been a very strange situation. It's been difficult for me to get fully up and prepared for the matches because you arrive and then play and then train afterwards – it's a strange mix. It's a shame more people couldn't be around to watch/support but it is how it is. I'm very glad competition took place as it really focused me and made me fulfil my goals gym/training wise. Otherwise, I'm in no doubt I could have lost the quarter-final and semi.
For his part, runner-up Krzysztof Borkowicz reflected that:
I think the 3rd set was the most important one. John played very well and much much better than me on the day. I think the key for John's win was his backhand serve which was great and I couldn't manage to return it well. I'm not happy with the way I played because I know I can do better. However, John fully deserved the title for the second time in a row in 100%
Muir claims third place
In the 3rd and 4th place match play, Gordon Muir beat Keith Dingwall 4-1. After a strong start by Muir- with his trademark spinny loops to the fore – Dingwall battled back a bit in the 3rd and 4th sets before Muir cruised through the fifth and final set.
Muir found some real consistency with his looping towards the end of the match, keeping Dingwall pinned down. Dingwall kept himself in the match with his trademark tricky serves and skilful blocks and angled punches but it wasn't enough in the end as Muir eventually got to grips with Dingwall's serves. Muir won 11-7, 11-3, 13-11, 6-11, 11-4.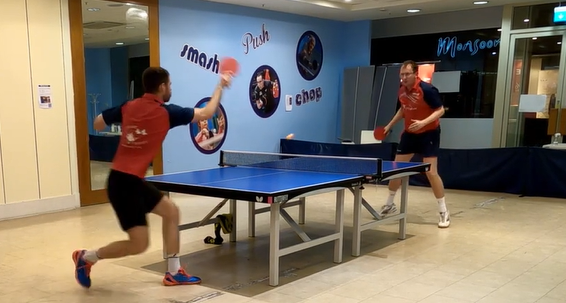 Gordon reflected on the match:
I was glad that I served well and had an attacking and positive mindset. Keith is good tactically and has tricky serves so I am happy I managed to stay ahead and keep the pressure on.
Covid-safe tournaments
Club President Lindsay Muir said that it 'was great to be able to have some competitive play under the circumstances and well done to John'. He went on to say that 'this will most likely be the format of competition for the rest of the season within the club and the ELTTL'. At present we are thinking about further tournaments we can run in a Covid-safe manner to keep players engaged'
by Charlie Ellis. 1.11.20.
---