Hannah & Borkowicz set to battle for Murrayfield crown
Despite the restrictions imposed by Covid-19, Murrayfield have been able to hold their 2020 club championship. It has been taking place at the club's Pop up & Play venue at the Gyle Shopping Centre over the last fortnight. The semi-final stage was reached this week. There are now only two players with a chance of winning the championship.
Reigning champion through
Number one seed John Hannah was the first to make it through to the final. In the quarter finals, Hannah was made to work hard for his 4-1 victory by up-and-coming youngster Charlie McGowan. In his semi-final with leading veteran Keith Dingwall, Hannah had to fight back from 2-1 down to take the match 4-2. Hannah initially struggled against Dingwall's tricky play but eventually got into his attacking rhythm, running round to play his big forehand. Hannah wasn't as consistent as might've wanted to be but landed enough good shots to take command of the latter stages.
Looking ahead to the final Hannah shared his thoughts:
'I don't think we've ever played a competitive match before, so it should be a good one. It'll probably come down to me winning with backhands and he with his forehand. If I don't miss a torrent of 3rd/5th balls -as I did in the semi – and don't get physically tired I'm confident I can do well'.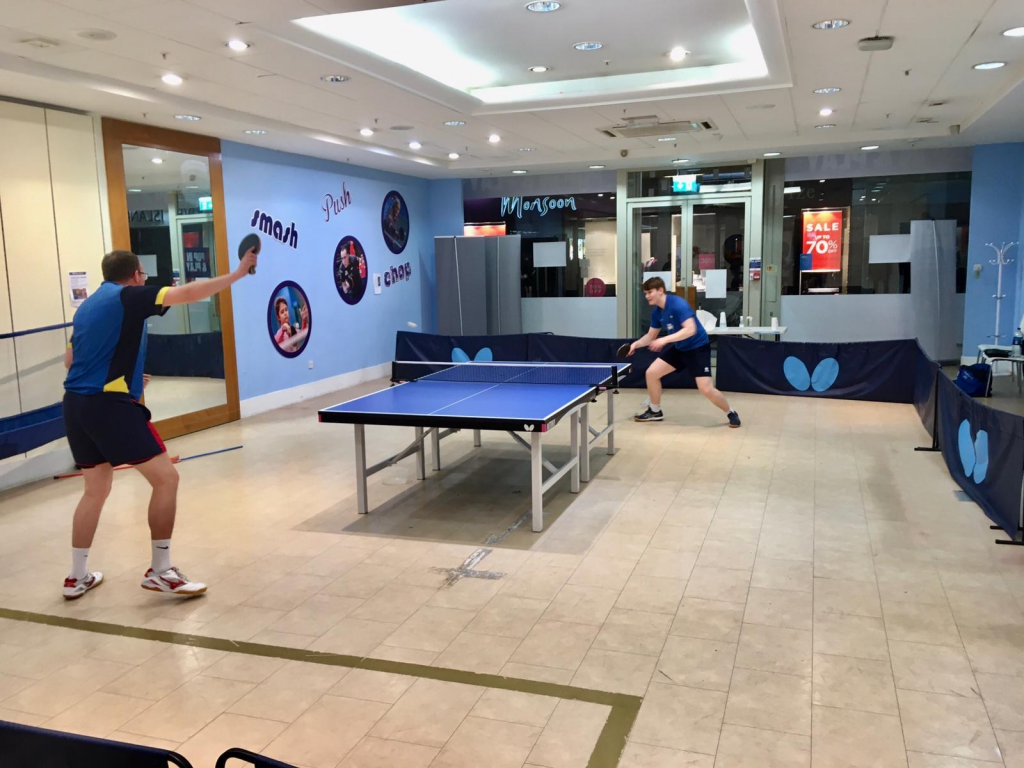 The battle of the coaches
The second semi-final saw the clash between the club's two top
coaches: outgoing head coach Gordon Muir versus his successor Krzysztof Borkowicz. Both had cruised through to the semis with straightforward wins. Muir related before the match that Borkowicz 'has been beating me easily in training but anything can happen I suppose'. In fact, the actual match followed the pattern of their practice games.
Though Borkowicz ran out a 4-0 victor, Muir had his chances. Muir felt that both had 'played pretty well'. He continued, 'my movement was decent and playing the right stuff, but missed a couple of things tactically that could have improved my chances'. Muir ruefully reflected that 'winning the 3rd could have made a difference' but that he was always behind -' I really wanted to get off to a good start but that didn't happen! Krys was pretty clinical'.
It took Muir a couple of sets to get a foothold in the match (Borkowicz cruised through the opener 11-3) -only in the 3rd set was he able to force Borkowicz into more passive play. Borkowicz certainly looked sharp with his backhand consistency impressive and his movement fluid.
After the match Borkowicz shared his thoughts:
'After the semi against Gordon, I feel much more confident. I have to admit that before the start of the game I was very nervous because it was my first competitive match since I travelled to Asia. I don't think that John has been training very regularly recently, but he's always dangerous and he is a fighter . He had an excellent season before lockdown and defeated Chris Main and Zak Wilson of North Ayrshire. I think anything can happen and I'm looking forward to a good match'.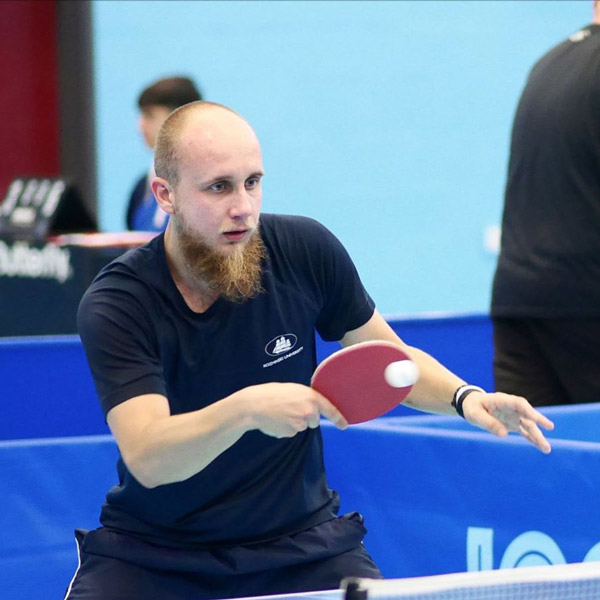 Borkowicz was champion in 2018 and Hannah in 2019..who will pick up the trophy this year?
The final is due to take place on Saturday at 12:30pm with updates on social media and videos highlights available on the Murrayfield club YouTube.
---