Q&A – Calum Morrison
Calum Morrison has been part of Murrayfield Table Tennis Club for roughly 12 years. Since he began he has shown an excellent attitude in training and calmness in match situations. In junior sessions he was often the first to get on the table and the last to leave it. His play has been marked by a high level of consistency and mental focus. This was illustrated in some amazing ELTTL Handicap Cup matches in which he clawed back huge deficits-often winning 20 + plus points in a row!
In June 2012 he participated in the ITTF World Hopes Week and Challenge at Falkenberg, Sweden. There he was coached by the likes of Peter Karlsson. His 1st tournament win was the under -11 event at the 2010 Edinburgh Championships. He had a fantastic run in the Edinburgh and Lothians Table Tennis League. He first represented Edinburgh Sports Club before transferring to Murrayfield in 2013. After achieving a highly impressive 84.1 % in his first season in the Premier league, he won all 57 of his matches in season 2014-2015. The following season he only lost one match – and that was when he lost track of the score when playing against Edinburgh University (who didn't have scoreboards)!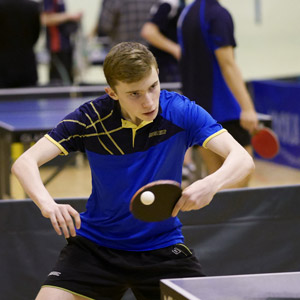 He has been a prominent member of Murrayfield's Scottish National League squad over the last few years. In season 2017-18 he won 9 of his 10 Division one matches including an impressive win over Drumchapel's Victor Shi Guang. He has also played in the Junior British League and the Senior British League, as well as competing (for Knightswood) in the ETTU Cup.

His achievements so far include several senior caps for Scotland, including being part of the team (alongside Colin Dalglish) who picked up the Team Home Nations Championship in 2019 (he was previously Home Nations Cadet Singles Champion).
Having been both Minor and Cadet Scottish Champion, he became Scottish Junior Champion in 2018, with victory over Dylan Curry. In the 2020 Scottish National Championships he reached the semi final of the senior event where he lost out to eventual winner Colin Dalgleish. In 2019 he made his singles debut at the World Championships, in Budapest.
Though he rarely plays, he's achieved good results in sandpaper ping pong, defeating Ian Johnson in the 2017 Scottish Ping Pong Championships and finishing runner-up to Gavin Rumgay.

Having started at University of Nottingham he has joined their strong coaching set up (led by Head Coach Kelly Sibley). As this interview makes clear, Calum thinks a lot about his game and his training.

Q&A

▸ When, why and where did you start playing table tennis?
▹ I started playing in 2008, at Edinburgh Sports Club which was very close to my school. I played squash before playing table tennis, and after squash training I went to a table tennis session one night and quite enjoyed it. Gradually over about two years I played less squash and more table tennis. Eventually I decided to focus on table tennis after being successful in a few Edinburgh competitions. I think the reason I chose to attend a table tennis training session was partly out of curiosity, I saw lots of other kids there and thought it must be fun! The reason I continued to play after trying it out was because I saw more experienced players doing drills and playing shots which didn't look possible; I wanted to be able to do what they could do. Gordon and Lindsay Muir played a big role keeping me interested and enjoying the game, I have tried coaching a few club sessions and it is not an easy job at all!

▸ What interests you and excites you most about TT?
▹ One thing that has interested me for a long time is the question behind what makes a good player, aside from physical attributes, specifically the decision making during a match. The majority of top players have great technique, fitness etc, but what I have always wanted to know is why they choose certain serves, receives, placements. When do they go for long serves, higher risk shots over higher percentage shots, or choose to take time outs. What their plans are during each game, and how they change those plans during the match or even mid game. I believe these tactical choices separate the top 10 in the world from the rest, but I don't think we will ever really know why the top players make these choices or how to make the best decisions in matches ourselves.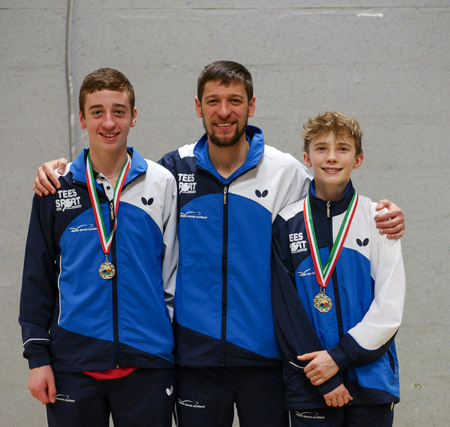 ▸ Who is your table tennis idol and why?
▹ I don't try and base my game on any particular player, although in general as a person I would say Timo Boll for a few reasons. I don't know anyone else who is so polite on the table, always apologising for nets and edges and he has always displayed true sportsmanship. He also seems to enjoy most of the matches he plays, often smiling after big points and being creative. It's something you don't see that often in sport, a sportsperson appearing so relaxed during intense competitive moments. After playing for about 20 years on the World Tour, he has managed to maintain an extremely high standard and still regularly beats the best in the world.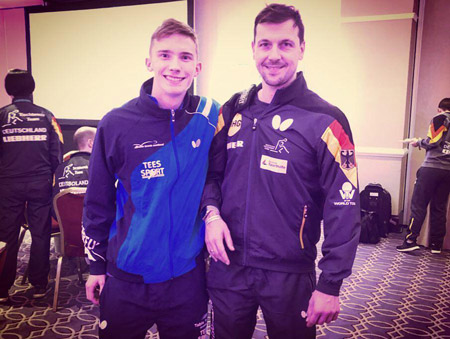 ▸ How often do you train and coach?
▹ At university I have the chance to train at least 11 hours a week, although I don't have many opportunities to coach at the moment. Usually I will take a day off during the week somewhere to keep up with work for my degree, determined by deadlines and coursework. It really depends on the week and whether any competitions are coming up. I would also try and practise more before a competition if I can, and then train less the following week. I did however train for three hours the day straight after the 6 Nations so there are some exceptions! I'm very happy with 9 – 10 hours though, plenty to keep me improving for now and keep a balanced life.

The limited coaching I do is usually with some of the players in the club, where I can give some advice on their game or even advice on university in general. But it's usually me asking all the questions to other coaches!
▸ What's your favourite training exercise & why?
▹ My favourite regular exercise has to be 3-point forehand. I find it the easiest exercise for getting into a rhythm. It's good for movement, good consistency practice for your forehand – and it's suitable multi-ball too. You can take out the 2nd middle if you're feeling good or play two balls from each point to make it slightly easier. Not difficult to remember, not too difficult to block, so an all-round winner!

My favourite irregular exercise is probably multi-ball touch to touch using the same ball, feeder digs long anytime. One of the hardest exercises I have ever done, but it is very good to train your concentration for four or five minutes of solid work. Another reason I like it is that you can play lots of shots per ball, meaning you can stay on the table longer rather than be picking up the balls.
▸ What do you prefer to do – playing or coaching?
▹ I would have to say playing, some of the best moments of my career have been on the table. I haven't had the same achievements coaching in the corner, but I do get satisfaction from helping a player use the right tactics and perform in the right state of mind. Having said that there have definitely been times where I haven't enjoyed training and would much rather be helping somebody else improve their game.
▸ What have you found most interesting about coaching?
▹ I have had a few coaches over the years, and a trend I have seen is that the majority of coaches tend to coach styles and techniques which they use or used as a player themselves, and I will include myself to an extent here too. It isn't always the case, but I know a few coaches who teach players how to play a very forehand dominant playing style when they were forehand dominant players in their time. I have also had coaches who give advice on certain serves, which they developed as a player. I don't think there is a right or wrong answer as to whether coaches should coach how they play, I think it is up to the player to make the decision how they want to play. If the coach can give good reasoning and logic behind their advice, then I don't see a problem. There are probably coaches who do this unintentionally, maybe because those styles and techniques gave them the best success they had as a player and that's what they know best.
▸ What do you think is the most important aspect of table tennis?
▹ A 100% willingness and desire to win (and learn from) every match regardless of the occasion, opponent, current form, fatigue, anything. This probably applies to all sports, but I know many players who have all the required physical traits, yet they don't give 100% on the table every single time. And it's universal at every level; I've seen it in Scotland, UK and on the world stage. A player with great technique and fitness can only go so far before they stop playing or reach a plateau because they can't deal with the pressure and find a way to win.

It's difficult to say if it's the most important but I would choose physical fitness as an important aspect for sure. There is no option but to be in good shape and to have a plan to progress your fitness if you want to be an international player. I started quite young, but if I could change one thing about my training in my early years, it would be spending more time on my fitness. It might have helped me for the 31 matches that I played during a North Ayrshire Open one time!
▸ What is your biggest achievement in table tennis so far?
▹ Becoming Men's Team 6 Nations' Champion with Colin Dalgleish would be up there for sure. I am really happy to have two 6 Nations' titles so far, but I am hoping to compete and win in future 6 Nations' events. Also, competing in the World Championships in 2019 was one of my long-standing goals. Even without winning any matches, the overall experience to play in that competition was unbelievable.
▸ What are your thoughts on last season? Happy with your performances?
▹ I was quite happy with my performances last season, the big challenge for me was balancing my work and my training, which I don't think I managed in my first year. Fortunately, I rarely had to miss lectures to train or compete, although I was squeezing in more evening training sessions than I could manage and as a result I fell behind. This year was better, I was more comfortable to say no to some training sessions and managed to prioritise the right things at the right times. To be honest I didn't see any huge leaps in improvement last year, but I definitely felt sharp most days at training, and I found a lot of areas where I can improve. I am confident I will see some changes in my game and hopefully have some good results this year!
▸ Do you spend much time thinking about equipment and trying new stuff out?
▹ Not a lot, although when I was younger, I definitely read the catalogues and tried to find the best equipment at the time. When I was a minor and cadet, I did spend some time trying out new equipment to see if it helped my game or not. It was more important to get the equipment which best suited my game early on so that I didn't have to make any big changes later on. At the moment I'm keeping what I have, although if there's a chance to try something new I'll always ask someone for a shot if they've got that new equipment.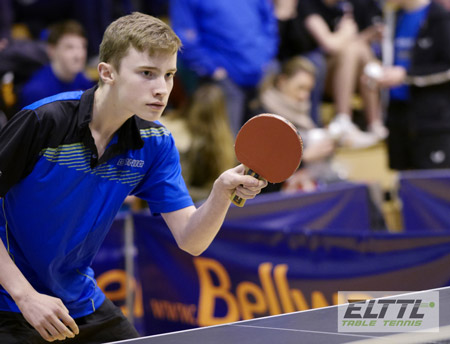 ▸ What's your plan for the future?
▹ The plan for this year is to graduate while still training as much as I can, and after this year I don't really know! I am thinking of doing a Master's, so I can stay at university for another year, but after university I don't have a plan. I know that I don't want to play full time anywhere but ideally, I still want to continue training while maintaining a full-time job. I will do my best to continue playing after my degree, although it is unlikely it will be as convenient or as high quality as the training at university.
▸ What is life like at the University of Nottingham?
▹ The university is great, I was quite confident I would enjoy it when I applied, and the past two years have confirmed that. The table tennis training there is probably one of, if not the best university set ups in the UK. I can't think of another place to train where I could train as often and with the same quality of coaching as at Nottingham. If any players out there are choosing universities, I would certainly recommend considering the University of Nottingham, but as always make sure you know what you're signing up for!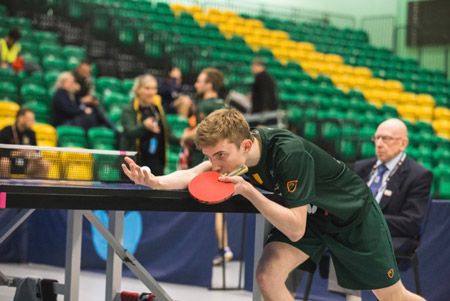 ▸ What are you into apart from table tennis?
▹ During lockdown I've played quite a lot of golf and recently been cycling almost every day for my university club fundraiser event. We are trying to cover the distance equivalent to the perimeter of the UK by walking, running, cycling or any other non-motorised transport before September 21st, the first day of term for university in aid of Access Sport, a charity which aims to increase the number of disadvantaged children involved in sport. It's nice to have a goal to work towards, I do like cycling but it's far easier when it's for a good cause! Whether I will keep up the same level of golf and cycling past the summer I don't know, although it has certainly kept me busy.
by Charlie Ellis
Krzysztof Borkowicz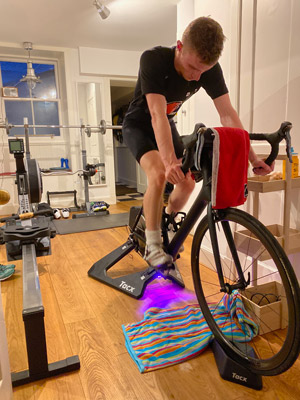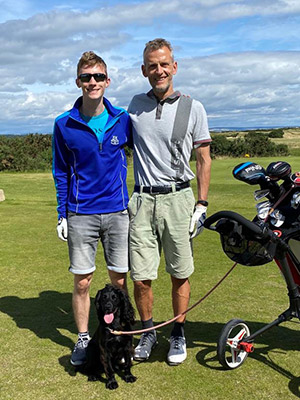 ---